Antalya Setur Marina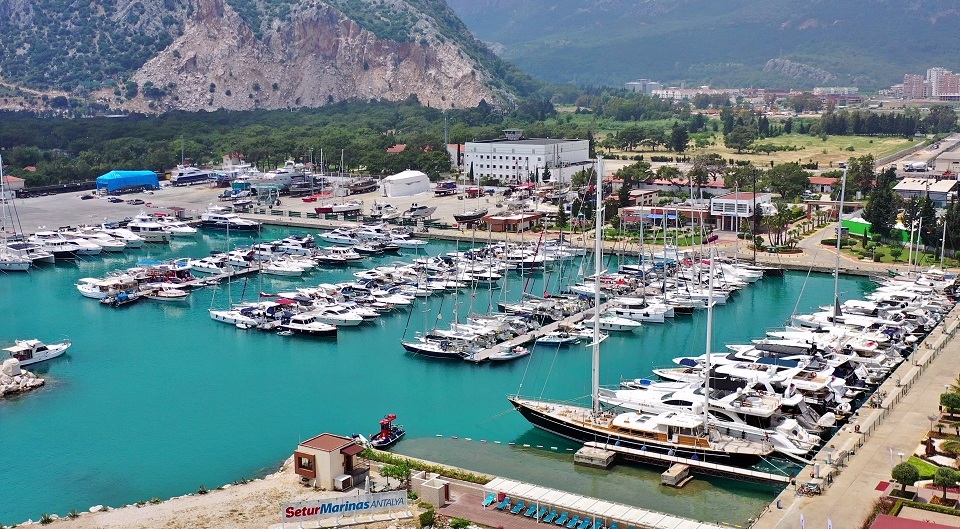 Setur Antalya Marina, which opened in 1991, is conveniently situated inside the Antalya Commercial Harbour, behind a massive breakwater, providing excellent protection against all weather conditions. The marina is located 30 km from Antalya International Airport and just 10 km from Antalya city centre. It has everything a city marina should have, including a peaceful,safe and fun environment for its guests.
The marina can accommodate 235 yachts on sea and 150 on land, for a total of 385. The depth in the marina is 4 to 6 meters. During the summer season, many mega yachts,up to 90 meters,are served at the mega yacht pier.
The marina,with a hard standing area of 30.000 m², provides all sorts of technical support, repair and maintenance services with 75 and 200 ton travel lifts. There is a yacht repair, maintenance hangar(900m²) and a team of experienced specialists.
Setur Antalya Marina was rewarded with a "Blue Flag " by the FEE(The Foundation for Environmental Education) and Five Gold Anchors by TYHA (The Yacht Harbour Association) for its commitment to environmental issues and service quality.
The guests of Setur Antalya Marina benefit from the rich culture and art life of Antalya throughout the year. In March and April, you can either ski in Saklıkent or go to the beach for a swim. Antalya also offers great golfing opportunities, being one of the top golfing cities in the world for the longest period of the year.
Linking Information
Maximum Depth : 5.50 meter
Maximum Full Size : 90 meter
Mooring Capacity : 235
Land Capacity : 150
Technical services
Pressure Wash
Yacht Painting & Maintenance Hangar
Lift & Launching
Other Informations
Food Market
Chandlery
Restaurant
Cafe - Bar
ATM
Address
Büyük Liman Mevkii Liman Mahallesi Liman 2. Caddesi No:40 07130 Konyaaltı / Antalya
E-mail
antalya@seturmarinas.com
Website
https://www.seturmarinas.com/
Coordinate
36.83328390521197, 30.607796580371673